REVIEWS
Wanted to thank you for a great product. I purchased a 16″ 458 socom barrel from you.I shot 8 rounds at a hundred yards on windy Day into a 1.5 "group the first time out. I think a good shot would of went sub moa.
Hey I just wanted to thank you guys for the awesome product and great service!! I definitely plan on ordering more from you guys in the future !!!!
I just went to the post office, and received the mag plates, FANTASTIC! 🙂

But ——what impressed me most, the paper clip 🙂 🙂 …….yes, it's that kind of small detail that a company does not do any more, I am impressed all the way around, thank you again,
I believe, are the best P320 base pads in the market. I have tried several and none of them compare. This past weekend shooting knockdown steel I didn't fumble a single mag change because of the purchase I was able to get on the mag when pulling it from my pouch.
Thank you so much! Wonderful customer service, definitely will be purchasing from you guys again!
I ordered a punch set and was very impressed with the quality! So impressed with the quality, I wanted to see what else your company makes. I see that you make AR15 uppers and lowers. I want to buy some from you.

Great customer service! Businesses like yours always makes me wish I lived closer so I could meet you all in person.
I just wanted to check in and let you all know that I've been using your P320 base plates since October.  They're a bit more… well… a lot more banged up than the day I picked them up from you guys, but they still look gorgeous in their own right and those mags fly out of the P320 like they were on the wings of angels.

You also hooked me when you let me play with those ARs you guys built up.  I'll be back soon.  Count on it.  It was a lot of fun chatting with you all… and your dog.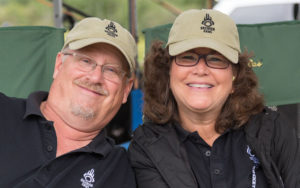 WADE AND PAT WILSON
OBSIDIAN ARMS
PO BOX 17190
LITTLE CANADA, MN 55117
(651) 484-2000